Stream sports events on the internet
Inspire viewers worldwide with your digital sports event
Would you like to spread your sporting event, increase your profile and let all the fans and spectators take part in your sporting event? At the moment in particular, many events are only possible with little or no spectators. Livestream is then the solution!
With live streaming for city runs, running events, soccer, football, basketball or other sporting events, you can not only broadcast a spectacular experience for your target group on site, but also stream it all over the world.
We can stream your event on Social Media, YouTube or your website. Of course also on our Stream1 portal with password protection, your branding and German servers.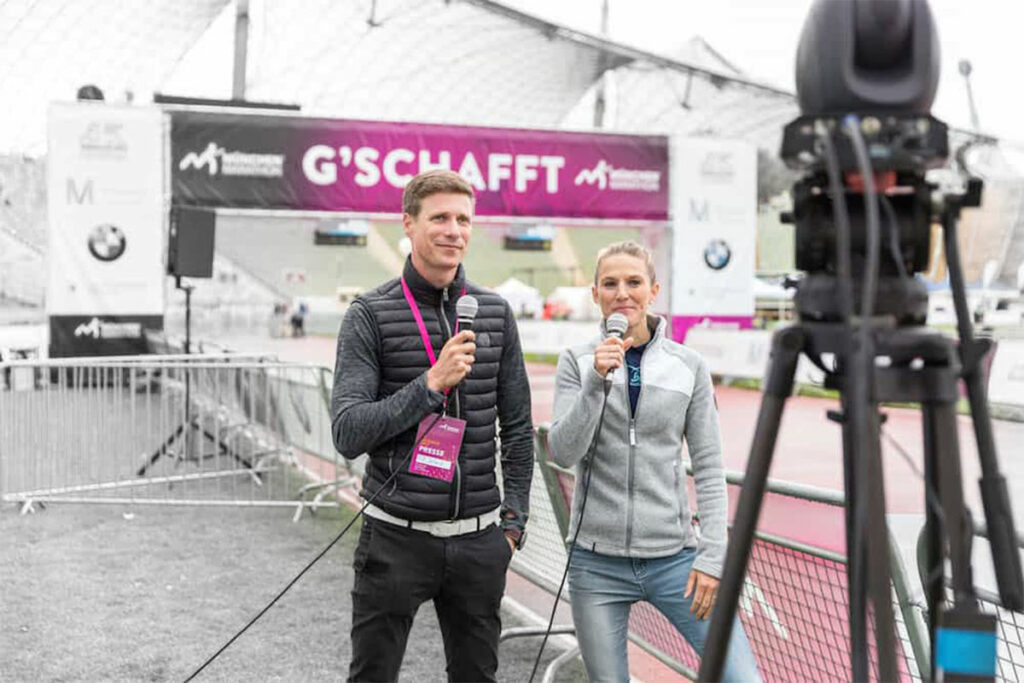 Quotes, overlays and commentators
In addition to the actual sport, you can convey statements, interviews and quotes in a way that you otherwise only know from television. Thanks to the latest live streaming technology, we can stream every event with the highest image and sound quality in the living rooms of your fans and viewers. Everything in real time and with professional overlays, cuts and commentators.
As a long-standing livestream agency, we are experienced in the production of sports events and outdoor events. We know what it takes to broadcast a dynamic and entertaining stream. In addition to our TV-experienced team, we also bring modern, high-resolution camera technology into the production.
Example football game & marathon in the Olympic Stadium
Football lives from emotions, a good overview and crisp comments. Therefore we broadcast the game from different perspectives with several remote controllable cameras. So you can capture goal scenes up close and the central overview camera leaves nothing to be desired, even for tactical foxes. Before, after and in the middle of the game, we switch directly to the edge of the field or into the dressing room in order to capture original quotes from players and experts. A commentator accompanies the game during the game. The score is of course shown all the time. Thanks to state-of-the-art technology, the direction can be directly in the stadium or at our headquarters.
Marathon has fascinated people for 2000 years – and live streaming takes this fascinating sport to a new level. As part of the Munich Marathon, several mobile cameramen were posted along the route, while others drove alongside the runners on motorcycles. At the same time, commentators reported from the finish in the Olympic Stadium. It was streamed on social media channels and YouTube.