Virtual events with voting tools, surveys on German servers
As a full-service provider for hybrid events, we not only stream your event, but also oversee your entire event: Your viewers can vote, answer surveys or chat with the moderators. Of course, all communication takes place in compliance with the GDPR. Because our servers are in Germany and thanks to password protection, your digital event is only visible to the participants you have invited.
We combine years of experience in live streaming, professional technology and Bavarian hands-on mentality – for your perfect hybrid event.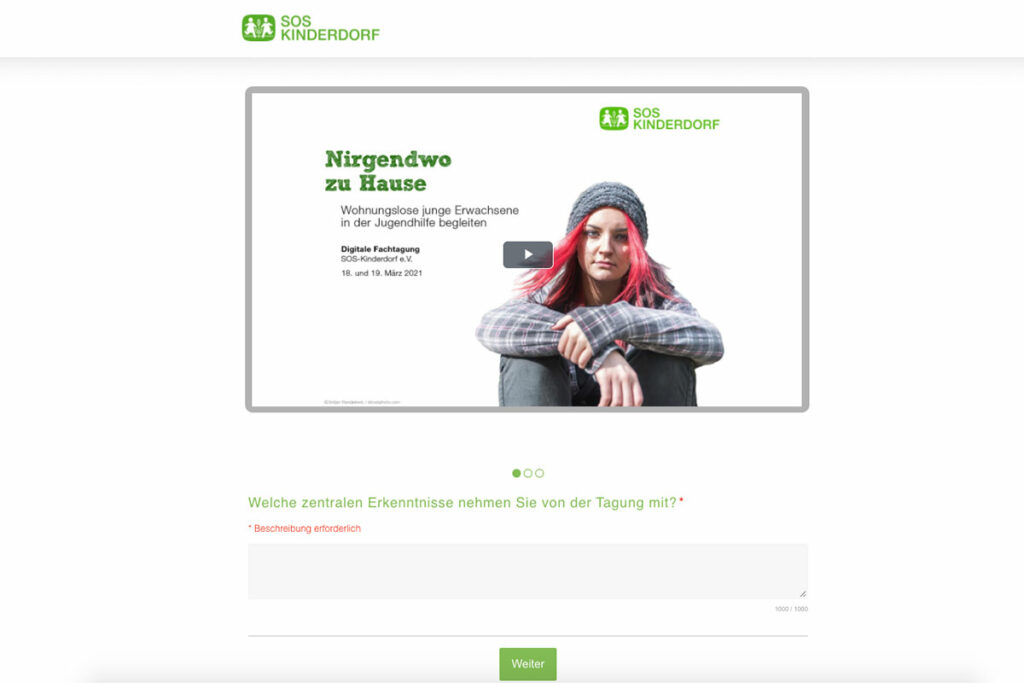 Livestream Portal for your event
Regardless of whether it is a large company or an SME – events are simply part of it. Whether product presentation, trade fair, meeting or press conference. But in times of the corona pandemic, good ideas are needed to hold conferences or training courses.
Stream1 provides a mature and secure online tool with its live streaming services. Our streaming solutions enable online events of any size. In addition, our tools have a secure option for online voting. Regardless of whether the participants visit the event via laptop, tablet or PC.
Regardless of the size of the company, our streaming solution "Stream1" is a tried and tested and versatile complete package for online events. It includes technology, specialist staff and on-site support with light, sound and several cameras.
Data protection & security with German servers
We provide you with your own URL for your online event. Safety is a top priority. Our server locations are GDPR-compliant in Germany at German data centers. We design the registration mask and the registration process for the participants according to your needs. For example, 2-factor authentication, SMS certification, registration via membership number and password, and setting up a download portal for files and event documents can be implemented.
Upon request, we will record for you and then make the recording available to you via our Stream1 portal.
Live stream with chat & polls
Carry out polls and surveys, enable group or individual chats and offer downloads or uploads for documents. The additional integration of more live streams is also possible if required. The interaction of all participants is available during the entire event according to individual requirements.
Benefit on site from our modern transmission technology with high bandwidth. This gives you a perfect stage for your online event, regardless of whether it is in-house streaming or for your global audience.
We also offer solutions for special applications, such as advanced training for doctors, with which the presence of the participants can be tracked in order to determine how long a participant has actively followed the event. Thus, on the basis of this data, points can be awarded for further training.
Do you have special registration requirements? Should attendees sign and upload an NDA? No problem! We would be happy to check all the requirements that you place on your participants in order to enable participation. Two-factor authentication helps us to ensure that the right guests are really at your virtual party.
"And once again, many, many thanks for the great joint project. You have a very charming and powerful troupe. Totally professional, always going the extra mile and unassumingly charming. Happy to do it again."
Stefan Wetzels, Managing Director
Face2Face.com GmbH