Our technology makes the difference
Broadcasting a live event is a demanding production. Highly trained and technically trained, our team at Stream1 ensures transmission in television quality. Our technology for livestream production is mobile and perfectly coordinated.
The images from our cameras are mixed with the sound live in the stream in our control room. As in a TV production, multiple video sources and perspectives are taken into account. We reinforce the professional impression of the high-resolution images with graphic overlays – of course in the corporate design of our customers.
In the end, we always have a coherent overall experience. We offer error-free streaming in a professional format. We work with the camera as well as with light and sound with the most modern technology for a successful live stream production. After your event, we will provide you with a recording of the event for your own purposes.
Big team and German server
Numerous factors must be considered for a successful streaming production. For our live streams, we therefore rely on excellent technical equipment, of whose quality we are convinced.
Our employees are not only motivated, they live for film and stream technology and have been working in the industry for years. As a well-rehearsed team, lighting, sound, camera and direction technicians work together. Everyone can rely on their partner's abilities.
But it also has to be right in the background. Our servers are in Germany in order to meet the highest data protection requirements. We know that this topic is central to many customers.
Our programmers are constantly developing new features for our streaming tool. Whether voting, download area or chat – we make everything available to you. In each case adapted to your individual wishes.
Individually according to your ideas
Your wish is our priority. For the best experience for your viewers, we personalize the stream according to your ideas. We keep animations and graphics in your design, we design the streaming portal with your logo. Do you have an extra wish? We try to meet it.
Overlays and split screen
We cut the picture together from different cameras and perspectives. At the same time, the integration of PowerPoint slides is of course also possible. Such an involvement is particularly useful for coaching or conferences. With a split screen it is also possible to display the speaker and the presentation at the same time. Several pictures can be mixed in at the same time as part of a talk.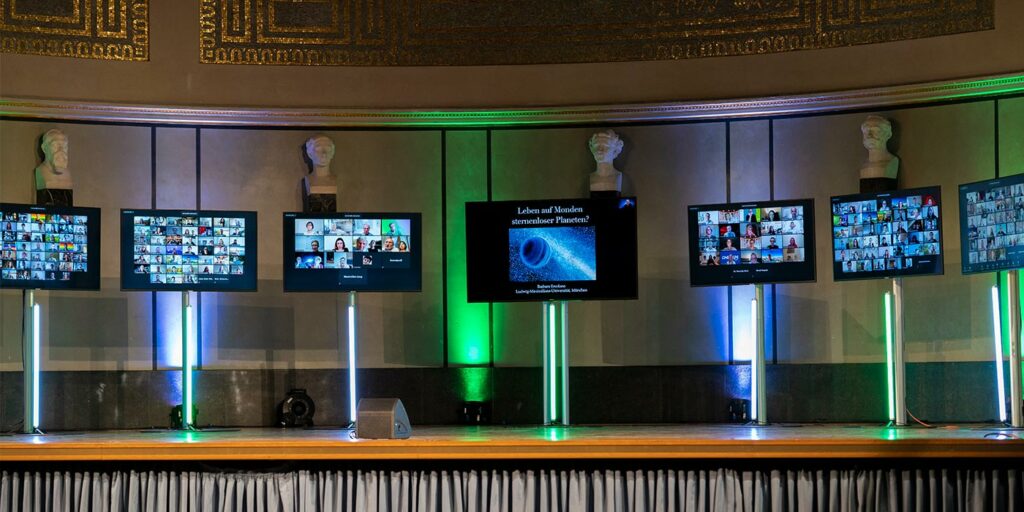 Live on multiple channels
We broadcast your event on the channel of your choice. Would you like to embed the stream on your website? No problem. Of course, a stream on Youtube, Facebook and an online meeting tool such as Microsoft Teams or Zoom is also possible. You can also use many features such as surveys, password protection or chat functions on our own GDPR-compliant portal. Of course everything in your colors and design.
Thousands of viewers worldwide
Your stream is available worldwide and allows access by many thousands of viewers at the same time at large events. Of course, it is also possible to connect to the live image, for example from experts from all over the world. Using internet bonding, we can also stream outdoor recordings without a stationary internet connection in consistently high quality.