Provider for event technology and livestream
Livestreams from Munich for Munich
Trade fairs, award ceremonies or gala – events are part of the communication mix. Especially in Munich, as an economic hotspot, the seat of corporations and the state government, there is always a lot to present, celebrate and network.
Professional event technology and live streaming are included as standard. Your guests expect everything to run smoothly at an event and the technology to function flawlessly.
For us as an event technology streaming provider, every event is unique. We plan processes, technology and, of course, the external impact of your event for and with our client.
Livestream and event broadcasting has been part of our portfolio for many years. With Stream1 you have an experienced provider for the conception of your event at your side, who is not just any service provider, but advises and delivers you competently.
From streaming to event technology
Of course, Corona was an accelerator. But it is not only since the pandemic that livestreams have been part of a good event, conference or award ceremony. Because many guests also want to participate remotely in your event.
There are many reasons why not everyone can come to the event. Whether it is to protect the environment and reduce their own CO2 requirements or for time reasons. A livestream is the best and easiest alternative so that all guests can participate in your event.
Networking is also possible in the livestream. A chat, separate rooms or user profiles solve the problem.
With us you book the complete package – we are the company for streaming an event in Munich – with partners from the complete event technology including lighting, sound, stage design. Everything from a single source.
For cars, hybrid sounds like an intermediate solution: not one and not the other. With hybrid events, on the other hand, it's different. Because hybrid events are first of all "normal" events on site with event technology, lighting technology, sound and images. The hybrid event expands your event to include those "left at home". In other words, the target group that will not travel, for example, for environmental or time reasons.
You should not disregard this target group and therefore offer an event as it is expected: As a hybrid event with livestream. If you are looking for an experienced event organiser with a strong partner for event technology and the complete range for light, sound, projection and image transmission – then you have come to the right place.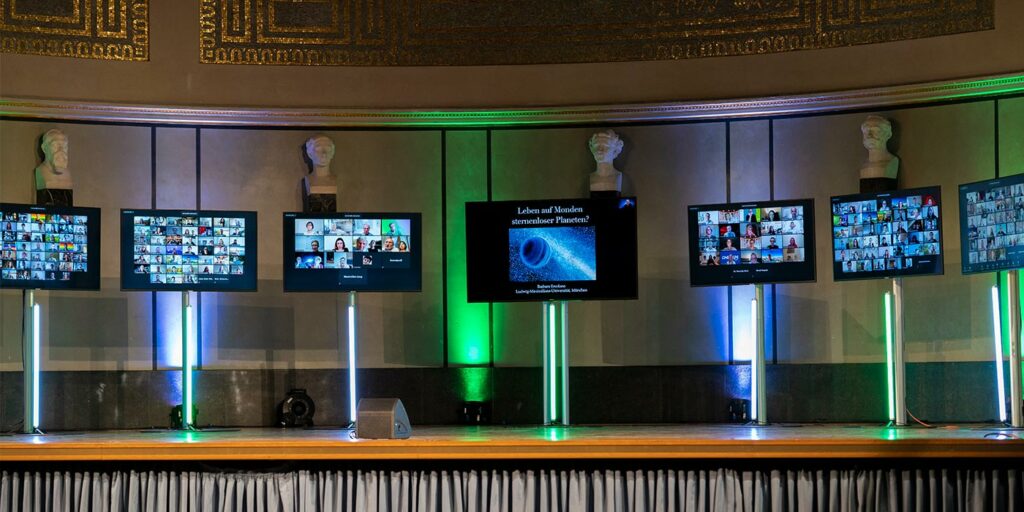 Workshops, seminars or conferences in livestream
What the beamer used to be at a conference is now the livestream: it is simply part of a professional conference. Hybrid is the magic word that stands for an event with on-site event technology and a simultaneous broadcast as a livestream or webinar. Viewers in the stream can follow the event on site, ask questions or get involved in a specific way.
With the livestream of a conference, your target group grows by the part of the viewers who are interested in the event but shy away from travelling or being present on site.
Another side effect: from streaming a conference it is only a short way to video on demand, i.e. recording the conference. In this way, you can offer a second use of the lectures as videos and expand your target group or offer your viewers valuable added value.
Fixed allocations: With us, you have a fixed contact person from the enquiry to the event.
State-of-the-art technology: We rely on top products from brand manufacturers and established livestream technology.
Teamwork makes the dream work: Our team consisting of permanent employees understands each other "blindly". Sometimes we only need a few words or sometimes just a glance is enough to give instructions or exchange ideas.
Livestream Experience: In 2022, we produced 200 livestreams for companies, ministries, government agencies, associations and organizations alone.
With us, however, you not only get the right livestream, but also event technology for rent. Whether you need microphone units for conferences, Astera lights for an awards ceremony, or a sound mixer for a citizens' information event, at Stream1 we have a large portfolio of streaming equipment for rent and hire. We have photographed a part of our event technology in our gallery. Please feel free to call us at 089 41 41 453 10 or drop by our office in Munich's Werksviertel.